Advanced Direct Injection
The Mazda CX5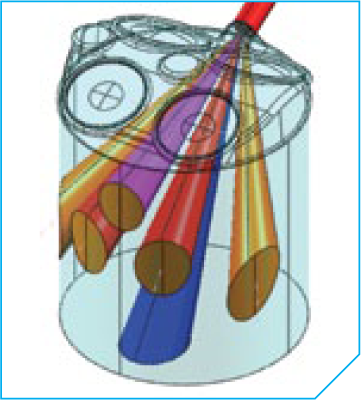 SKYACTIV®-G utilizes an advanced direct-injection system that injects fuel directly into the cylinder. This alone leads to a cooler fuel charge, which helps mitigate preignition, or knock. Additionally, the injectors use a six-hole design, as opposed to one, which improves vaporization and mixes the fuel more evenly for more complete combustion. Also, thanks to the high injection pressure (2,900 psi vs. 1,600 psi on our previous direct-injection engines, and only 43 psi in traditional, port injected engines), as well as an intricate revision of airflow in the combustion chamber, Mazda's CX5 engineers were able to split fuel delivery into multiple injection events and dial in optimum performance across a wide range of operating conditions.


Volcano-Top Pistons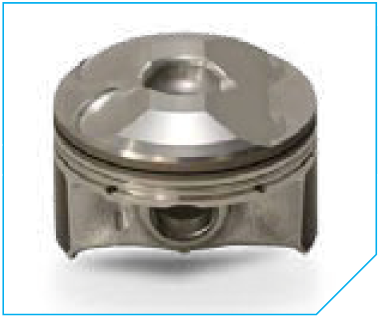 Another reason knock occurs at higher compression is because the domed tops of high-compression pistons get in the way of the flame kernel that forms around the spark plug in the first moments of combustion. It was only after an intense, millisecond-by-millisecond study of the combustion process that Mazda CX5 engineers realized this contact between the flame and the piston was stealing energy away from the flame and slowing down the combustion event. And with slower combustion, the potential for knock increases because the longer it takes for the air and fuel to burn, the greater the opportunity for the mixture to spontaneously ignite somewhere else.

To solve this problem and allow for a faster and more efficient burn, they created an ingenious volcano-like pocket to give the early part of the combustion a place to go without heating up the top of the piston. This leads to less energy loss, better combustion and reduced potential for knock.



Compression Ratios
For every point increase in compression, power goes up by approximately 3%. The Mazda CX5 SKYACTIV®-G sports the highest compression ratio of any current production engine: 14:1 for most of the world. In North America it's 13:1, to allow for our preference of low octane gasoline.

Still, that is exceptionally high:
Consider that a Ferrari 458 Italia makes due with a 12.5:1 ratio; the Lotus Elise dips down to 11.5:1, and the Corvette Z06 settles for 11.0:1. And keep in mind that all these cars require premium fuel, while Mazda CX5's SKYACTIV®-G does not.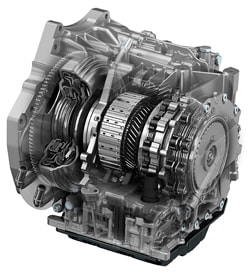 SKYACTIV®-DRIVE AUTOMATIC TRANSMISSION

---

Current State
An efficient and responsive engine is of little use if the transmission is slow to find the right gears or loses hard-earned energy on the way to powering the wheels. Before designing the SKYACTIV®-Drive transmission, Mazda engineers studied every available transmission technology. A Continuously Variable Transmission (CVT) was rejected due to its slippy, disconnected feel - which goes against everything Mazda stands for. And while a Dual Clutch Transmission (DCT) gets props for being efficient and having the same direct, connected power delivery as a manual transmission, the DCT's computer-controlled clutch is difficult to control at low speeds.



Design Approach


Reimagining how an automatic transmission should behave, Mazda's CX5 engineers set out to design SKYACTIV®-Drive with the best attributes from both a conventional automatic and a DCT.

Four key performance targets were identified:

The fuel efficiency of a manual transmission
Quick, direct shifting like a DCT
Easy to control at low speeds like a conventional automatic
Smooth, seamless shifting

First, Mazda CX5 engineers focused on improving the torque converter. A conventional torque converter is still the smoothest, easiest way to control a car at walking speeds (like pulling in and out of your driveway or creeping through rush-hour traffic), but they're inefficient at higher speeds. The solution is to only use the torque converter below 5 mph, where it works the best. The rest of the time, the Mazda CX5 SKYACTIV®-Drive uses a multi-plate clutch to directly and efficiently transmit power.

Because of the torque converter's more limited role, Mazda CX5 engineers were able to make it smaller, leaving room to package the clutch and torque converter in the same space as a conventional torque converter. Locking out the torque converter achieved the team's "direct, connected feel" and fuel efficiency performance goals. But achieving fast, smooth shifts required a quest for speed and precision deeper inside the transmission. Thus, a new mechatronic module was developed, combining the transmission control computer and all the sensors and shift solenoids into one unit. Each of these compact modules is individually calibrated when the transmission is assembled, so the computer can learn the precise response characteristics of each part it has to control.

As a result of this innovative approach to automatic transmission design, the Mazda CX5 SKYACTIV®-Drive has the lowest losses of any equivalent competitive transmission design. It upshifts smoothly and directly like its DCT competitor, it rev-matches perfect downshifts every time - even faster than the DCT - and it yields 4% to 7% gains in fuel economy.*
*4% gains when paired with SKYACTIV®-G and 7% with SKYACTIV®-D.



What About NVH?


Eliminating torque-converter slippage while driving means the engine can now operate at low RPM and high load where it is more efficient. Unfortunately, this creates some issues, such as lowfrequency engine sounds and vibrations that don't normally occur with a conventional automatic.

To tackle the Noise, Vibration and Harshness (NVH) issues, the chassis, body, engine and transmission teams all worked together and came up with comprehensive solutions ranging from new engine mounts to the design of the trunk floor. Here again, this shows the power of Mazda's clean-sheet design.



Examples of Noise, Vibration and Harshness (NVH) reduction measures:





Simply Put


The Mazda CX5 SKYACTIV®-Drive boosts fuel economy by improving torque-transfer efficiency and achieves a direct-drive feel similar to a manual transmission.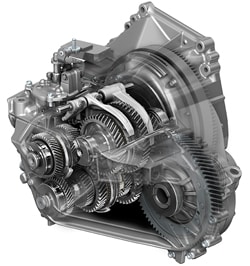 SKYACTIV®-MT MANUAL TRANSMISSION

---

Current State
Manual transmissions are, by their very nature, quite efficient. Even so, Mazda engineers were intent on making something good even better.



Design Approach


The goal with the Mazda CX5 SKYACTIV®-MT was to produce a family of compact front-drive manual transmissions that deliver the satisfying shift feel of the iconic MX-5 Miata. However, exceptional feel wasn't enough ? it had to be lighter, more compact and enhance fuel efficiency by reducing internal friction.

Shortening the shift throw should create an increase in shift effort, but Mazda's team worked diligently to redesign every part of the internal shift mechanism, ensuring efficient action and minimum friction. The result is a shift stroke that was reduced from 50 mm to 45 mm (the shortest of any competitor), with a direct, effortless feel that is unmatched.

The high-torque SKYACTIV®-MT, designed to pair with the SKYACTIV®-D engine, required particularly innovative solutions to provide the necessary strength while remaining compact enough to fit in the same space as the low-torque transmission. Mazda engineers looked for ways to have internal components perform more than one function, landing on the decision to have 1st/Reverse and 2nd/3rd share input gears. This reduced the secondary shaft length by 20%, decreasing the transmission's overall length. In fact, for its respective torque capacity, the SKYACTIV®-MT is the smallest and lightest in the world. While contributing to better fuel efficiency, this compact design also yields packaging flexibility to make the body structure more efficient and therefore lighter.



Simply Put:


SKYACTIV®-MT is compact, lightweight and produces a crisp, sports-car-like feel when shifting.

For more information about the Mazda CX5, please call us at (888) 612-1062 or use the link below to contact us via email:

Contact Us